I always wanted a custom swirl – especially a neon GMC!
I think it was back around 2000, I was in a guitar shop in San Francisco looking for a new classical guitar – when I ran into this amazing swirl hanging in this shop. I was blown away – and did the classic double take. I looked at the price tag, and it was well over $3k -so I decided to keep on my trek for that perfect classical guitar for our studio. But the dream never left.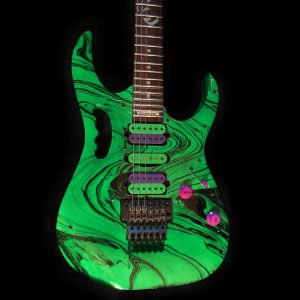 Here's our jean greenie swirl project. It's a basswood body from Chris at Mai Guitars, cut on a CNC machine and carefully sanded, filled, and swirled in a neon green and black.
He spent extra time on the clear coat, being a 2 part poly that is thick and extra shiny it's buff.
When it came to what neck to use, I felt it important to use a factory Ibanez neck, as the width and thin profile reminds me of my best classical guitars. They're fast, and well made. So my Jem 555 bk (made in Korea in 1995) offered it's neck to the project.
Before it was mated to the swirl body – I stripped it's finish off the back of the neck, and replaced it with multiple coats of gun stock oil and wax. (Check out Uncle Ben on youTube for his funny tutorial about why your neck finish sucks!)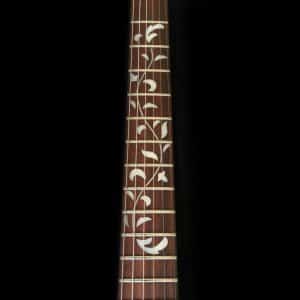 The frets were polished with some great tools from StewMac – using their files and nifty eraser system. Polished frets make for a great playing guitar. I re-oiled the rosewood with some great product from StewMac that made the inlays pop. (Interestingly, I find that the Korean necks are so well done, the inlays are better than many of the made in Japan Ibanez necks that come through our studio.)
Sound is really everything. Of course it has to play well, but hums, buzzes and noisy pots destroy good recordings in our studio. To alleviate this, I started with copper foil shielding to create it's own Faraday Chamber. (Look that shit up, it's geeky!) I even connect all the copper shielding sections by soldered wire connections to make sure it's as shielded as possible. I found a real VLX switch and the correct capacitors for the Jem 77 wiring – which wasn't easy!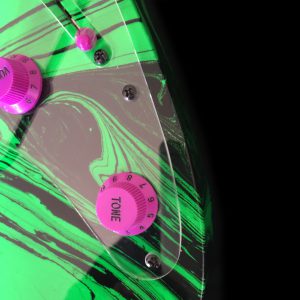 When I build a guitar, it always takes a few times. Patience is everything, and I pour a lot of it on as the build progresses. I have to be willing to dissasemble it at least 3 times to know all the bridge works just right, the neck is at the right angle, the pickups are at right height. Without 3 attempts, just like the 3 bear stories, how does one know if it is "just right?"
Being a fan of diMarzio, and the crunchy sound of the Evolution series, I went with them. Even though I had a set of green and black Evo's – I knew the purple and green would give it the right color combo.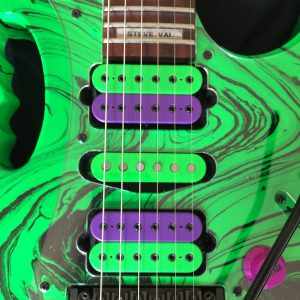 I have found that high quality switches and pots, and the old school pushback tinned heavy guage wiring makes a big difference in sound – quality, tone and volume.
Because of the black swirls in this guitar, we went with actual black hardware instead of the standard cosmo we always see – an original Ibanez Edge and Gotoh tuners.
We're super happy with how the Jean Greenie turned out. It's one of the best playing and sounding guitars in our studio, and calls us by it's neon glow.
Check it out at our shop on Reverb.