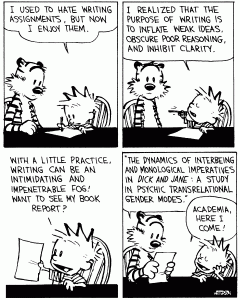 My desire to write this blog on WRITING comes from an awareness that despite our highly technical and visually oriented culture things still seem to pivot on the written word. Even for something non-literary like a TV show someone has to write the script or cue cards; someone has to write the advertisement and promos, the legal contracts, the emails, the memos etc.
When needing to communicate with a prospective partner, a high tech software company is reduced to making sure there are no sentence fragments, or dangling participles in their mission statement. In the legal world I recently read a quote stating that, "more litigation results from bad drafting than you can imagine."
Another reason for this blog is the need to address a shocking barrage of mediocre and incompetent writing in supposedly professional forums. With regularity I have seen run-on sentences and fragments in the London Times and I have seen just about everything on the internet. The prose on the blogosphere, as one feisty blogger puts it, tends to be "slapdash, fragmented and drearily prolix."
My intent with this series is not to complain but to entertain and give tips for better writing at a variety of levels and for a range of different genres.
The first two installments, So it is Written, So Shall it be Done and To Write or Not to Write are fun pieces on the history of writing.
The third blog, Everybody's Doing It, will be about the modern importance of writing, detailing the basics of good, solid writing. We need to be aware of the fact that from cover letters to resumes to mission statements our written word usually precedes us in this modern world.
The fourth installment, Write Well or Die, will discuss style and will give advice on how to give your writing a more personal voice and how to put a bit of art into the effort.And the final article, Real Story-Telling, looks to great works by great writers to show us what great writing can be.