Our skills & award winning creativity has enabled Bluedot to tackle projects ranging from feature length films to albums and soundtracks.
Creativity is a way of life in our studio. Times change, interests change – but our focus is always on creatively spending our days.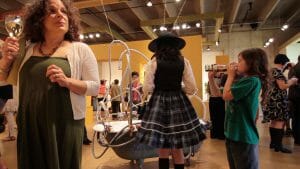 Being classically trained musicians since childhood – our interest in music has been a constant for both of us. After completing studies of yoga and philosophy that turned us towards indian classical music, our first album "Prajnaji Sound Collective: Suns Return" shared our interest in mixing dance and electronica with the classic raga sound. Within a year, we found ourselves involved with a world renowned quantum physicist studying philosophy and quantum physics making a film that included that very album as its soundtrack. The award winning film "The Quantum Activist" was the culmination of a 2 year deep dive into the world of the quantum - describing it all through motion graphics. It was a cinderella story for us, as it won so many awards and was immediately picked up for distribution from the people that did "What the Bleep do We know?!?" – the fifth grossing documentary at the time. We were sent out to film festivals and premiers around the country and found our film distributed in 12 different countries including PBS.
After the whirlwind slowed down a bit, we moved our focus to our second film "Capoeira: Fly Away Beetle". Filmed in the favelas in Bahia Brasil, the film is a gritty look at how martial arts and dance transform their communities. Working with professor Brian McWhorter at the University of Oregon for much of the composition on this soundtrack – it turned out beautifully. It is currently in distribution internationally, and academically with Kanopy to Universities for study.
After spending a year as Director(s) of Photography and editors for the unreleased feature film "What the Bleep Do We Know, "Now what??" - Bluedot returned to its roots in music for some much needed healing from the rat race of high production hollywood projects.
The result were the well received triphop albums "Pluviograph" and "Deluge", both released in 2018 through major streaming retailers. Deciding to not take on any other freelance work for the next year allowed us to remodel our studio, refocus our efforts towards music production for the industrial project that gave voice to the much needed post ecstasy world of dance music "Molly Despondent". From this new vantage point, we turned our focus away from dance music towards analog synthesis for our latest ambient / chillwave project called"Wetwire".
Our award winning filmmaking has enabled bluedot to tackle projects ranging from full length documentaries to post production specialties. The many films in our portfolio proves our experience in producing media on a local, national and international level. Our film and music is driven by our desire to share knowledge and feeling states, and our productions sustained by the ability to improvise in the heat of the moment.
All stories are human stories.
We have enjoyed telling these stories and helping others tell theirs.
Our proven expertise in filmmaking, graphic design and story-telling; our substantial experience in music and sound engineering, and the discernment to choose projects that celebrate living are the core qualities which make bluedot the ones to watch.